How to Create an App from Scratch (Hint: Builder Can Help!)
It all begins with an idea. Before you got that job in Milan or won the lottery, the first step towards these realities were the respective ideas. To apply for a job 7 seas away or to buy a lottery ticket just for fun. Because life is to short not to live it completely. Thousands of ideas cross our minds every day, and we don't even give most of them another thought. But, some stick around. Have you wondered why? And how might you turn your dream into reality? Read on, Builders!
The idea
At Builder, we believe that it is because deep down you know when an idea is full of potential. This is especially true for the #BuilderGeneration out there. We support your entrepreneurial dreams, no matter how crazy they may sound.  So, if you have found your million-dollar idea and have the vision and zeal to make it come true, then it's time to make the big decision.
The decision
This is when you decide to bring it to life. Is it an app, website or shopping platform? Or maybe you want your app specifically for a wearable device? Do you want just the prototype, MVP or the complete market-ready product? What is your budget? What are your preferred timelines? Who do you trust to turn your dream into software?
ROUTE 1: DO IT YOURSELF
If you're the protagonist in the actualisation of your idea, whom would you choose to come along in this journey? Many entrepreneurs decide to go solo, learn the basics of code and build an app themselves. Builder certainly encourages it because like we said, we admire entrepreneurial grit. Fair warning though–this route would take maybe 10x the time and effort than others and despite the struggle, the product still might not be fit to launch into the market.  
That brings us to option 2
ROUTE 2: DON'T DO IT YOURSELF
Hire an agency if you want your product to look and function competitively in the market. A few possible drawbacks with this route are hefty upfront down-payment, lack of transparency during development, compromise on quality, and a lack of product care and servicing after delivery. Now, obviously this isn't for everyone–especially entrepreneurs strapped for cash, SMBs looking for rapid, effective growth, and large enterprises that also want after-delivery maintenance for their product. So, what's the next option on the table, you ask?
ROUTE 3: DO IT WITH BUILDER!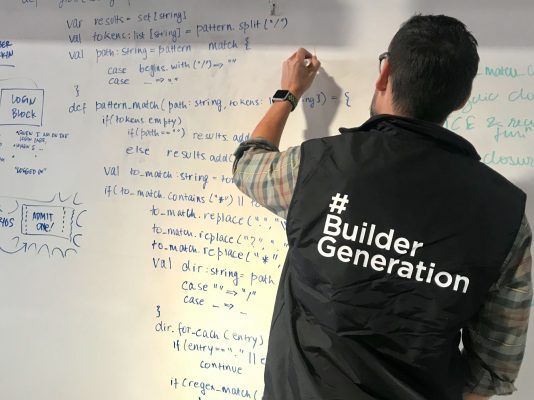 This may sound too proud, but we really think we've cracked the code! With Builder, it's easy to build software in a cost-and-time-efficient manner. Using Builder Studio, you can now design your idea (no matter how small), and our human-assisted AI will manage the process (thanks to a Capacity Partner Network of 75,000 technical and creative resources across the globe and our AI-powered platform).
Builder makes software development as easy as ordering pizza for individuals and enterprises alike. Builder Studio, Builder Cloud and Builder Care help you build, run, and scale successful ideas. Here's how it works:
First, Builder Studio's drag-and-drop menu is so easy to use that anyone can build a project even if you know nothing about tech.  Our process offers all the immediate, predictable benefits of Software as a Service (SaaS) with the customisation previously possible only from expensive and complex tailor-made software.
Then, once you start your build, our human-assisted AI manages a network tens of thousands of expert software developers across the globe. There is little downtime, reducing costs for you. These specialists deliver your idea efficiently, on time and without the errors normally associated with tailor-made software development.
Next, Builder Cloud brings you multi-cloud access in a single platform with fine grain analytics, DevOps automation and commitment-free cost savings. Our human-assisted AI works in the background to buy forward capacity from cloud partners including Amazon Web Services, Microsoft Azure, Digital Ocean and others to ensure we can provide you with capacity—exactly when you need it, and at the best price possible.
Afterwards, Builder Care is a service that proactively updates your app, so you're never blindsided by 3rd party changes that could easily bring it all down. Even if it means an app needs to be totally rebuilt (something we can do effortlessly as we're always updating the core features your software was assembled from).
Here's the bottom line
Life is short and when you have a uniquely remarkable idea that could change the world, then it feels silly to hold back and deprive the world of it. Now, more than ever, we encourage you to dispel your fear of missing out and take the leap! We're not asking you to dive into the unknown vortex of software development at all. Instead, why don't you click here to schedule a free demo with our experts who will hold your hand through the process–totally commitment-free? Welcome to the #BuilderGeneration!